We offer 2 types of Golf Towels,
Soft Velour Tri-Folded towels, and Sheered Cotton 16x25 towels
ITEM NO.1 16X25 3.5 lbs/ dz TRI-FOLDED VELOUR LUXURIOUS GOLF TOWELS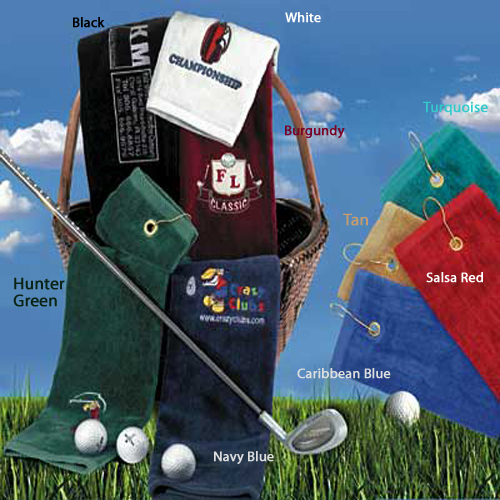 Our golf towels are made from the highest quality cotton and are available with custom logo designs or in solid colors. Now you can choose from 5 different colors. Our 16x25 golf towels are 16x25, Terry Velour cotton, with a fancy Dolby border. Tri-Folded and comes with hook and grommet, this is the fanciest Golf Towel you will find anywhere. We now can embroider your Logo or event on any of our Golf Towels. Turn around time is 5-7 Business Days. There are many Golf Towels out there, but we can assure you the quality, detail and softness of these towels is the best out there. Case pack is 120 Pcs , and we ship out of our warehouse in Miami.
Size: 16X25 TOP QUALITY GOLF TOWEL
Weight:3.5 Lbs per DZ.
Cotton: Velour Cotton / Terry Tri-Folded, with Grommet and hook

Usage: Can be used plain, or with Embroidery, Silk Screen. Company Identity, Events, Charities, Golf tournaments, and Private Club

PRICE PER CASE/S (120 pcs)

Buy 1 case of 120 pcs pay $2.50 ea per towel.

Please enter the amount of cases you wish to buy, price will adjust accordingly
golf towel for corporate events, for company event. Our golf towels are custom made with grommet and hook and weigh 3.5 lbs per dz.
personalized golf towels are embroidered and custom made to order. Buy at wholesale price and save.
Embroidered golf towels can be done within 1 week or less. Golf towel Logo is digitized within 2 days.
Some using Callaway equipment Taylor made golf towels,
** If using AOL please turn OFF " block pop ups", otherwise the shopping cart wont work. **
* To order Samples of our Towels, click here.
** To find out about Embroidery for any of our towels, click here
Bath Towels| Beach Towels| Hand Towels| Washcloths| Bedding| Embroidery
Golf Towels| Fiber Reactive Towels| Return Policy
:(tou
l) A piece of large absorbent cloth used for wiping or drying yourself after a shower
Bath towels,washcloths,beach towels, bath,hand towels,custom embroidery,silk screen, velour towels,golf towels,closeout towels, wholesale towels, sheets comforters, sheet sets, bed in a bag, istitutional towels, hair salon towels spa towels, medical towels